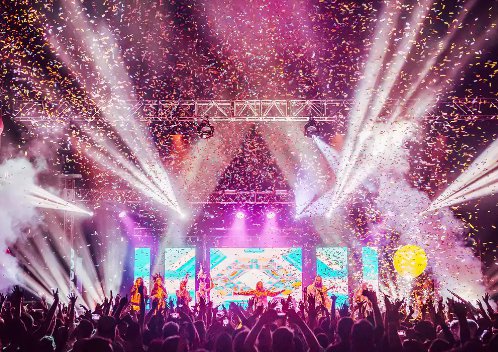 Mighty Hoopla Festival Photograph: Luke Dyson
From the Mighty Hoopla's pop-focused celebration to Download's annual joyous metal onslaught, there's an event this summer for everyone...
All Points East
25 May–3 June, Victoria Park, E3
Who Björk, LCD Soundsystem, Nick Cave and the Bad Seeds, Father John Misty, the xx, Lorde, Yeah Yeah Yeahs, Beck, the National, Patti Smith, the War on Drugs, Warpaint

What You need to come packing a pretty big lineup to turf Field Day, Lovebox, Citadel and Mighty Hoopla off east London's Victoria Park, but the inaugural All Points East is your mum's flashy new boyfriend who insists on you calling him "Uncle Steve", has a vintage sports car and showers you with random gifts. A 10-day-long extravaganza – with free entry for its midweek community events – All Points East brings to the UK the combination of eclecticism and mega names that Barcelona's brilliant Primavera Sound nails year upon year. Sure, it's a bit 6Music: The Musical, but any festival that puts Nick Cave and Patti Smith on the same bill deserves to come back in 2019.
Field Day
1-2 June, Brockwell Park, SE24
Who Erykah Badu, Loyle Carner, Earl Sweatshirt, Madlib, Princess Nokia, Fever Ray, the Comet Is Coming, Thundercat

What More wilfully esoteric than ever before, Field Day is largely shunning big-hitting headliners in favour of a more chin-stroking, I-spend-all-my-spare-time-rifling-through-the-racks-at-Sounds-of-the-Universe-and-weeping-to-Madvillain aesthetic. If you love J Dilla more than your firstborn, this is the festival for you. As previously mentioned, for the first time since its inception in 2007, Field Day won't be taking place in its spiritual home of Hackney/Tower Hamlets. Instead – like most hipsters these days – it's gone south of the river, to Brockwell Park, Herne Hill.
Mighty Hoopla
3 June, Brockwell Park, SE24
Who TLC, Lily Allen, Belinda Carlisle, Melanie C, B*Witched, Vengaboys, Betty Who, Louise, DJ Luck and MC Neat.

What The most fabulous of all the fests, Mighty Hoopla is a queer, pop-focused celebration of trash, camp and drag. Kind of like those tours that take 1990s pop stars to play at Rochester Castle on a damp August evening, but not deeply awkward and embarrassing. The ever-entertaining Sink the Pink collective are hosting a stage, while the supergroup you never knew you wanted, Boyzlife – made up of Boyzone's Keith Duffy and Westlife's Brian McFadden – will also be in attendance.
Download
8-10 June, Donington Park, nr Derby
Who Guns N'Roses, Ozzy Osbourne, Marilyn Manson, Corrosion of Conformity, Body Count, Avenged Sevenfold, Bad Religion, the Hives

What At some point in the early 2000s, the classic Monsters of Rock festival – known for its fondness for Hawkwind, Iron Maiden, AC/DC and flying projectiles heavy with real ale-augmented piss – decided to have a bash at the millennium and returned with a MySpace-worthy rebrand. Fifteen years later, and Download is stuck with its oh-so-2003 name, but it's also one of the most joyous festivals in the UK, home to one of music's last staunch tribes: the mighty metaller. Expect to see the casual wearing of triple denim, epic consumption of Snakebite and Ian Anderson of Jethro Tull queuing up to watch the Wall of Death in the fairground field. Probably.
Wireless
6–8 July, Finsbury Park, N7
Who J Cole, Stormzy, DJ Khaled, Wiley, Migos, J Hus, Giggs, Rae Sremmurd, Lil Uzi Vert

What Starting life in 2005 as much more of a general indie bash in the Reading & Leeds mould – its first headliners were Kasabian, Keane, Basement Jaxx and New Order – Wireless has since become hip-hop's big weekend out after ditching the guitars and bad haircuts in 2012 and exchanging them for R&B superstars Rihanna and Drake. Now grime rules the roost, with Stormzy's only UK festival set happening here this summer. Wireless also boasts one of the youngest crowds on the festival circuit, and as such the energy levels will likely put to shame anyone over the age of 25.
Latitude
12-15 July, Henham Park, nr Southwold
Who The Killers, Solange, Alt-J, the Vaccines, Mogwai, Wolf Alice, the Breeders, Benjamin Clementine, Alvvays

What Otherwise known as the one with the ethically painted rainbow sheep. Latitude is where Reading and Leeds attendees go when they're too old to go to Reading and Leeds – ie 19 years old – and where Alt-J seem to headline literally every single year. There's a low-key Britpop theme to this year's event with Sleeper, James and the Charlatans smuggled straight out of 1995 and on to the lineup. But the real winner here is the comedy. Bridget Christie, Mo Gilligan, Aisling Bea and QI Live head up a bill of extreme lolz, and even Ed Miliband will be bringing his Reasons to be Cheerful podcast to the site. Laugh along while you feast on vegan tacos from Club Mexicana and pretend the world isn't doomed.
Reading & Leeds
24–26 August, Little John's Farm and Bramham Park
Who Kendrick Lamar, Fall Out Boy, Panic! at the Disco, Kings of Leon, Skepta

What This year has been branded by some exasperated grumps on Twitter as "the worst lineup ever", but we beg to differ. You can keep your Kooks, Wombats and Courteeners: booking the likes of Kendrick, J Hus, Skepta and Brockhampton shows a festival that is willing to break out of its tired rock and indie pigeonhole. Well, mostly …
End of the Road
Who Vampire Weekend, St Vincent, Feist, Josh T Pearson, Oh Sees, Ezra Furman, Omar Souleyman, Julia Holter, Mulatu Astatke, Lucy Dacus

What Small but perfectly formed, End of the Road has its roots in alt-country, but also welcomes indie big-hitters and experimental folkies. The site is dreamy, with hidden stages in the woods and nonchalant peacocks roaming about the place.