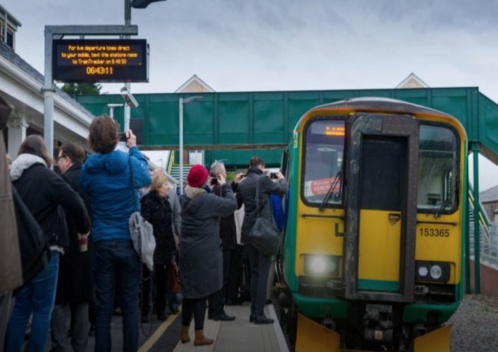 Photo by Fraser Pithie.
Passengers were up bright and early to board the first train to leave Kenilworth Station in half a century.
Dozens of people caught the 6.16am train from the new station to Coventry – an eight minute journey.
And unlike the opening of the £13.6million station – which comes four months later than expected – the first train arrived on time.
Passengers using the new station, built on the site of the town's former station, will benefit from an hourly service between Coventry and Leamington, operated by West Midlands Railway.
It has been funded by Government's Local Growth Fund through Coventry and Warwickshire Local Enterprise Partnership (LEP), Warwickshire County Council, and the Department for Transport's New Stations Fund.
The new Station Road station – on the site of the town's former station which closed in 1965 as part of the so-called Beeching Cuts – also includes a ticket office, 72-space car park and cycle parking.
The station was designed in a partnership between the county council and the local train operator following consultation with local residents.
The design has embraced the history of the site, with two stained glass windows and a vintage sign salvaged from the original station building, demolished in the 1980s.
Monica Fogarty, county council joint managing director, said: "It is time to celebrate the completion of a very complex project and for Kenilworth to celebrate that once again it has got a rail station.
"This will provide a real boon for the local economy, bringing visitors to the town and also giving Kenilworth residents the opportunity to travel across Warwickshire without having to get in the car.
"My heartfelt thanks go to all the people of Kenilworth who have shown such patience while the work was being carried out. I am sure the new station will make it all worthwhile."
Martin Frobisher, route managing director for Network Rail, said: "Kenilworth station is a fantastic addition to the rail network. It will provide local people with regular services to Coventry and Leamington Spa and connections with services across Britain.
Transport Secretary Chris Grayling said: "We are currently investing in the most significant upgrade to our railways since Victorian times with faster, more comfortable trains and a greater number of services.
"Stations like Kenilworth have the potential to create jobs, connect communities and grow the vital economy here in the West Midlands."